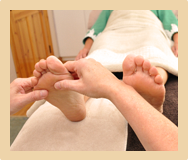 Reflexology is an ancient healing art based on the principle the body will, given the opportunity, heal itself and bring about a state of natural balance in order to function to its full capacity.
Benefits
Reflexology is suitable for all ages throughout all stages of life. This very gentle and safe therapy may bring relief to a wide range of both acute and chronic conditions.
Reflexology has been shown to be effective for:
Helps maintain general health
Reduce stress and induce relaxation
Provide a more efficient way of removal of toxins and impurities
Helps regulate bodily functions such as digestive, endocrine, respiratory and excretory systems
Back pain
Migraine
Sleep disorders
Reflexology is covered by AVIVA, LAYA HEALTHCARE and VHI – available on selected health insurance plans. Contact your health insurance provider for more details.
Reflexology  |  60 minutes €40.00
Luxurious Lavender and Rose Foot Melt followed by Reflexology  |  80 minutes €45.00
Mobile treatments may cost more due to travel expenses, please contact us for a quote.