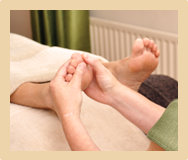 Pregnancy is one of the most special conditions a woman can experience in life.
Reflexology can help restore balance in most of the cases, treating conditions symptomatically, and alleviating and stimulating. These are a few examples where reflexology has demonstrated to help during pregnancy:
Clearing headaches
Relieving varicose veins
Constipation
Help and improve sleep in turn more energy
Reducing morning sickness, all day sickness and vomiting which persists past the three-month stage of pregnancy. Reflexology is recommended by the National Maternity Hospital, Holles Street, Dublin.
Contra Indications to having Reflexology during pregnancy include:
Threatened miscarriage, Eclampsia, history of blood clotting, unstable diabetes, any vaginal bleeding, deep vein thrombosis, warfarin medication.
Please contact us if you would like to discuss any of our treatments.
When mum has her new baby we can teach you to help your baby the natural way using Baby Reflex.
Reflexology  |  60 minutes €35.00
Mobile treatments may cost more due to travel expenses, please contact us for a quote.