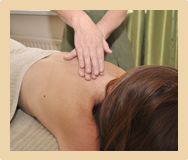 Holistic Massage is a therapy that treats the whole person. It provides a drug free means of reaching a state of deep relaxation, enabling the body to harness its own healing powers.
Many illnesses are a result of stress and poor dietary habits, which reduce the body's vital energy. Through relaxation, which a healing massage helps bring about, the body's natural energy is restored.
Combination of various movements used to manipulate tissues for both local and overall effects and benefits. The technique is based on the Swedish system and can be used for relaxation, stimulation or rehabilitation of the whole body or part of it.
Benefits
Reduces muscle tension and the pain it causes.
Calms the nervous system and increases circulation to boost energy levels and alertness.
Alleviates stress and anxiety.
Relaxation increases energy levels.
Aids digestion and elimination.
Holistic Massage  |  60 minutes €50.00  |  30 minutes €30.00
Back, Neck and Shoulder Massage (BNS)  |  30 minutes €30.00